Derbigum: a solid and innovative partner
An experienced partner
…you can rely on
Derbigum/Imperbel was founded in 1932. Over a time span of more than 80 years, the company has grown to become a well-respected global group, specialised in waterproofing and energy management.
Derbigum has one production plant in the United States and two in Belgium. Today the company employs about 400 people worldwide and has a consolidated net turnover of over 120 million Euros.
Your best investment
45 years ready for you
Studies by independent agencies show that Derbigum roofing has a proven lifespan of 30 years and an expected lifespan of more than 35 and 40 years. At this moment there are roofs of 45 years that still prove their functionality every day.
Other waterproofing solutions have a lifespan of 10 to 20 years: these need to be replaced and a reinvestment for the renewal of your roof is necessary. What's more, these are less resistant and result in higher maintenance and repair costs. Choosing Derbigum means choosing the most profitable long-term investment.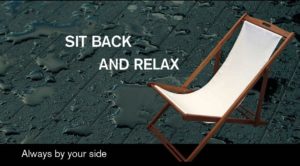 The best for your projects
Quality
Since the establishment of the company, Derbigum has convinced many roofing specialists of the quality of its products.
The finest components and the noblest polymers give the products their impeccable quality.
Our membranes are multifunctional, in all climates, from the Nordic cold to the driest desert.
Derbigum membranes can be used for all roof applications and civil engineering works such as foundations, parking- decks, bridges, etc.
Products that are environmentally friendly
Sustainability
Covering all your waterproofing needs
A complete solution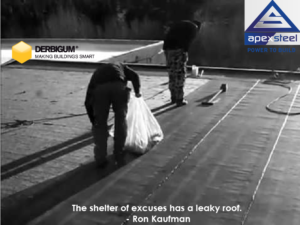 Derbigum guarantees quality products, which are sustainable and ecological, demanding a minimum of maintenance.
Strict energy audits during the production process, the use of recycled materials (without quality loss) and the life cycle analysis make sure that Derbigum membranes are made with respect for the environment.
After a long lifespan, the membranes can be 100 % recycled and reused in the production process.
Its innovative ability and exceptional energy and environmental management have already allowed Derbigum to be laureate of the prestigious EMAS prize, awarded by the European Commission, and to win several other international prizes.
Derbigum offers a wide range of products for every need in waterproofing:
DERBIGUM®bituminous double reinforced APP membranes for roofs and civil engineering works (parking decks, bridges…)
A range of ecological solutions, such as:
–     DERBIPURE®, the first vegetable roof covering
–     DERBICOLOR®  FR Olivine, a roof that neutralizes CO2
–     DERBIBRITE®  NT, with a highly reflective coating, acting as a "passive cooler", thus allowing cost savings on cooling energy costs