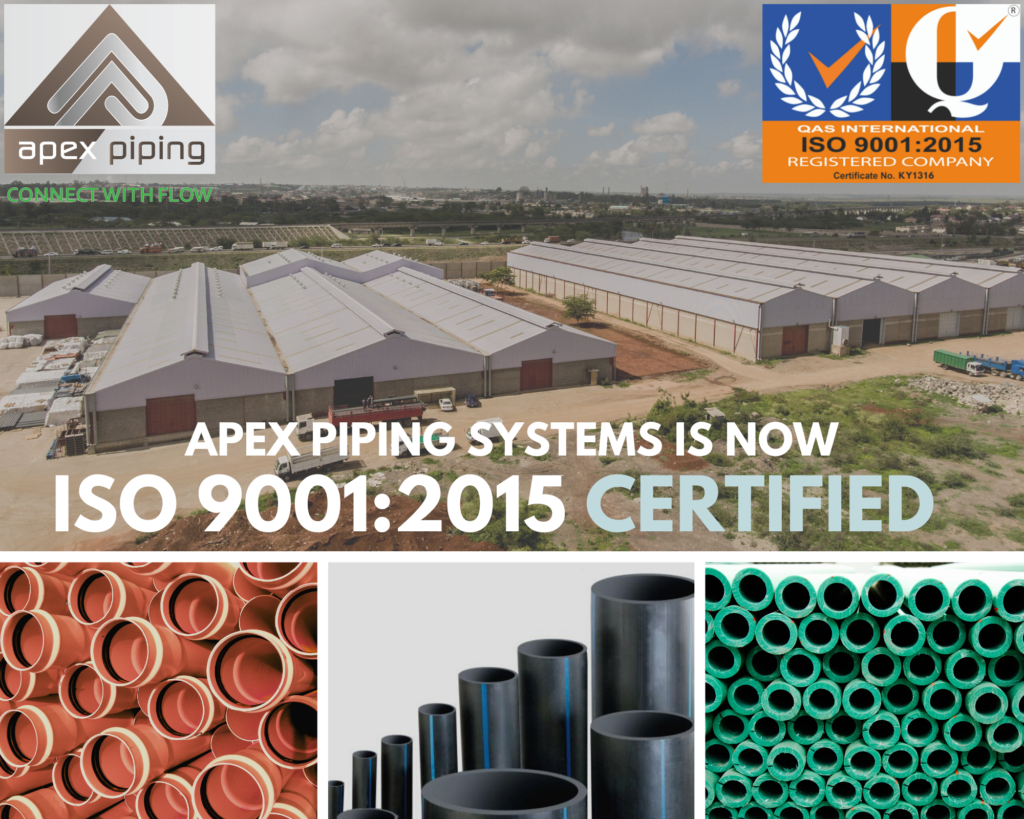 The Apex Piping Systems (APS) Division of steel and pipe manufacturer, Apex Group, has been awarded ISO 9001:2015 QMS certification by QAS International.
The quality management system (QMS) is a collection of business processes focused on consistently meeting customer requirements and enhancing their satisfaction and aligns with APS' mission to transform lives by giving access to water and sanitation for a sustainable Africa.
The standard will help APS accomplish its purpose of creating sustainable solutions that meet the needs of customers and other stakeholders while meeting statutory and regulatory requirements related to the products and services offered.
Production Manager, Mr. Prasad Sharma, credited the company's culture of quality and excellence for the achievement.
"It takes hard work, dedication and unwavering commitment and perseverance to become ISO certified," he said.
"Our team exhibited all these qualities in order to accomplish the goal we set for ourselves," he added.
Apex Group Director Mr. Kush Nathwani noted that "the certification will assist APS in developing a management system that aligns quality with our wider business strategy."
Mr. Kush believes that the certification will open considerable market opportunities for the business and is a clear signal to customers of the importance that the company attaches to quality assurance.
"There is a focus on risk-based thinking and accountability in all organizational processes that helps improve communications, efficiency, and implementation of continuous improvement," he explained.
APS' decision to work towards accreditation demonstrates the company's commitment to continually improving its products and services and, most importantly, its dedication to serving its customers.
WHY ISO?
Being certified as ISO 9000:2015 helps the organizations in many ways:
It encourages the entire team to be customer-focused.
It creates a ''Quality First" work culture.
There is always traceability to enable the elimination of root causes.
Works positively towards image building and good reputation of the business.
Gives quality insurance to the customer.
Encourages involvement of people and teamwork.
Facilitates growth capital and the search for new shareholders and investors.
Positions the business in a good rank when compared with competitors.
Keeps a continuous track of the business audit
The business is up to date and has numerous actions towards its inner and external business environment