Protruding rebars is a major hazard in construction sites that needs to be controlled. Injury caused by these rebars could range from a minor scratch to a severe puncture.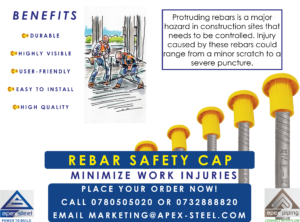 OSHA statistics show that 61% of construction accidents were due to impalement from rebar.
Unguarded protruding steel reinforcing bars are hazardous.
Even if you just stumble onto an unguarded rebar you can impale yourself, resulting in serious internal injuries or death.
There are a number of ways to avoid rebar hazards.
First, guard all protruding ends of steel rebar with Apex rebar caps.
Apex rebar caps can be used to protect from scratches and minor injuries.
An Apex rebar cap is a special reinforced plastic cap that is placed on protruding rebar at construction sites.
Even though it's small, these caps provide effective protection from injuries.
BENEFITS OF APEX REBAR SAFETY CAPS
DURABLE
HIGHLY VISIBLE
USER-FRIENDLY
EASY TO INSTALL
HIGH QUALITY