The construction sector is one of the flourishing sectors in the country. However, if you asked any investor or contractor, one of the main challenges they face is losses in form of wastes and breakages.
Most breakages and losses come from glasses and plastic pipes and according to experts at Apex Steel, the main reason is just that many people don't know how to store and handle the materials.
Here are 12 ways that one can safely store plastic pipes:
All storage areas should be flat and kept free from stones and sharp-edged objects.
Pipes are to be stored in such a way to prevent any contamination of the insides.
End closure caps should be removed just before installation.
Storage zones and stack heights are to be chosen which avoid possible damage or permanent deformation.
Large diameter pipes with low wall-thicknesses are to be provided with stiffener rings.
Single point or longitudinal contact support for any pipe is to be avoided.
Non-pelleted pipes should be stacked in heights not exceeding 1 meter. This is not applicable for pipes which are stacked on pallets providing their full weight is supported by the frame of the pallet. In principle, coiled pipes are to be either laid flat or placed in a suitable protective framework for storage.
Fastening bands should not be removed until shortly before installation.
If pipes are correctly stacked on pallets and secured against lateral movement, stacking heights may be increased by 50 percent.
The location where pipe and piping components are stored must provide as much protection as possible.
Pipes should not be allowed to come into contact with fuels, solvents, oil, greases, paints (silicones) or heat sources during storage.
Dragging pipes and coils over the ground must be avoided at all times.
TRANSPORTATION OF PLASTIC PRESSURIZED WATER PIPES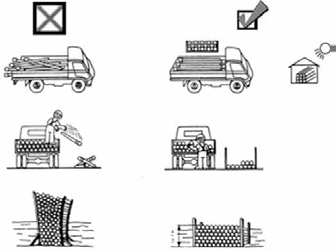 Vehicles for transporting pipes should be selected in such a way so that the pipes can lay completely flat on the bed of the vehicle without any over-hang.
All pipes are to be supported so that they cannot bend or become deformed.
The area of the truck where the pipes are laid should be covered with either protective sheeting or cardboard (including all side supports) in order to prevent any possible damage from protruding rivets or nails etc.
Pipes and fittings should be protected from possible damage during transport and not be dragged over the bed of the truck or across open ground prior to installation.
Pipes and fittings should always be loaded and unloaded with extreme care. Special support frames are to be employed when using cranes for loading or unloading from vehicles.
Throwing pipes onto the ground from the bed of the transport truck must be prevented at all times.
Sudden shock impacts are to be avoided under all circumstances. This is especially important at ambient temperatures around or below 0º C under which circumstances the impact resistance of almost all materials is considerably reduced.
Pipes and fittings are to be transported and stored in such a way so that they do not become contaminated by earth, mud, sand, stones, water, oils, chemicals, solvents, other liquids, animal excrement and the effects of weather etc.
We strongly recommend that all open pipe ends are covered by protective caps to prevent the ingress of foreign substances and matter inside the pipes.
Coiled pipes are to be fastened in such a way so that they cannot become loose and damaged during their transport.
Following delivery, loose or individual pipes should be laid out flat so that they rest on their entire length as soon as possible and then secured so that they cannot roll against one another. All storage surfaces in contact with the pipes must be kept free from sharp-edged objects.
Storing pipes on their pallets will offer basic protection from damage.
Influence of Weather
The influence of weather on all stored piping components is to be kept to an absolute minimum, i.e. such items should be kept in a covered warehouse. If pipes are stored in the open (for example, on construction sites) they must be covered with suitable coloured or plain black sheeting to protect them from the effects of weather (e.g. UV radiation). Furthermore, a one-sided exposure to direct sunshine can ultimately lead to deformation of the pipe.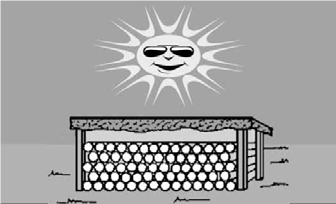 Measures are to be undertaken to obtain either a declaration of suitability from the manufacturer or a special fitness- for-purpose statement (national regulations must be followed) before attempting to use pipe and fittings which have been stored in the open for more than a year.
All piping components should be used in the order of their manufacture or delivery to ensure a systemised stock rotation.
Pipes and piping components should be checked before use to ensure their perfect condition and complete compliance with national marking regulations. The depth of any groove, scratch or flat abraded surface is permitted up to a total depth not exceeding 10% of the respective wall thickness. Pipes or fittings with damage in excess of this value may not be used.
Fittings
Fittings and valves supplied by GF Piping Systems are individually packed in PE bags and additionally in cartons to protect them from UV radiation as well as general c  possible soiling of the fusion zones. If the fittings are protected from direct sunlight and are kept in their original packaging1 they can be stored for up to 10 years if the storage temperature remains below 50º C. The storage duration commences on the date of production.